As a Latin Americanist who teaches classes on regional history and culture, themes of diaspora and mobility are central to my courses.
This spring 2017, students in my History 201: Latin American & the United States completed two course modules connected to the Challenging Borders collaboration.  History 201 The Craft of History rubric courses are writing-intensive seminars that emphasize the critical skills of the historian—including the analysis of primary sources, historiography, historical research and writing, and historical argument—but welcome students from a wide array of majors.  Increasingly, I have my students do more digital projects as a way to share their research and analysis with a wider audience.  This helps them think carefully about information literacy, as well as raising the bar for the quality of their writing.  It also lets us contribute to the content gap in well-researched, reliable online coverage of topics about race, gender, and immigration.
For one of our modules, students investigated their choice of research questions related to class themes, and created an annotated bibliography.  Students have shared some of these annotations to the Challenging Borders Mobility Studies Zotero library.
Another module focused on our joint analysis of a canonical secondary study of U.S. immigration policy.  One of the first books we read for class was Mae Ngai's  Impossible Subjects: Illegal Aliens and the Making of Modern America (Princeton UP).  Dr. Ngai's award-winning book examines the history of twentieth century U.S. immigration law.  She details the debates behind the Johnson-Reed Immigration Act of 1924's attempts to limit the growing influx of Southern and Eastern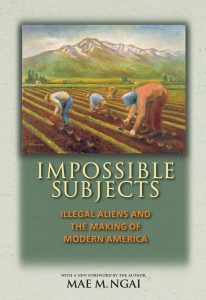 Europeans, and then looks at how these immigration restrictions created new categories of racial difference.  Later chapters look at how immigration officials applied these policies to colonial subjects like Filipinos, Mexican agricultural workers not covered by the quota system, and Asians ineligible for citizenship.  Pedagogically, the book provided an invaluable historical overview of the construction of race and national identity, while at the same time reinforcing close reading and analysis of secondary sources.
Despite all the scholarly recognition Ngai received for the book, it did not have a Wikipedia page.  I decided to create a new page to facilitate student critical analysis, and the diffusion of our overview of this important work to a wider public. This also let us contribute to our campus Feminist Wikipedia Edit-A-Thon.
Working in teams, students divided up responsibilities for leading classroom discussions of book chapters.  They then wrote up a brief synopsis of their assigned sections, following Wikipedia guidelines for tone, use of evidence, and content.
We finished our work on the page in early March.  Only recently have we received some feedback from the broader Wikipedia community, making some (very fair) critiques that the article would benefit from additional citations and a broader secondary source base.  A contributor removed my students' timelines earlier this month, noting that "book articles typically do not contain this."  I'm going to write my students to see how they respond to the wider Wikipedia's critiques and changes.